Notice
: Undefined variable: fbml in
/home2/westesf6/public_html/wp-content/plugins/wordpress-connect/src/plugins/WordpressConnectComments.php
on line
139
Notice
: Undefined variable: show_faces_value in
/home2/westesf6/public_html/wp-content/plugins/wordpress-connect/src/plugins/WordpressConnectLikeButton.php
on line
235
Notice
: Undefined variable: fbml in
/home2/westesf6/public_html/wp-content/plugins/wordpress-connect/src/plugins/WordpressConnectLikeButton.php
on line
183
What Makes Storm Surge expecialy Dangerous.
Something that often comes up when we talk about tropical systems is the
storm surge its effects on coastal regions. It is one of the deadliest
aspects of all tropical systems including hurricanes, typhoon and cyclones.
But what makes this storm effect dangerous? Well first what haft to explain
what causes storm surge.
As a tropical system develops its vast wind field begins to expand, with
that it starts to push the water around the system. As it nears coastlines
this though water is pushed on shore with sometimes catostrphic force.  To
show this just watch a lake or a pond on a windy day, you will see that the
waves on the downwind side of the body of water is higher, this is what we
call fetch, and with the case of a typhoon that spans thousands of miles the
fetch is often very large.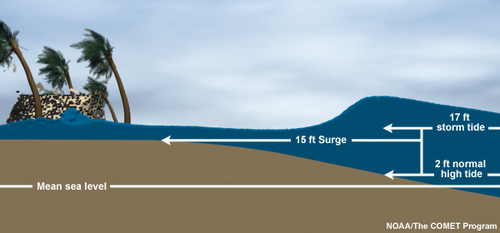 Another factor playing in to storm surge is low air pressure, something that
effects us everyday yet we take little time to think about it is the air
pressure that pushes down on us due to earth rich atmosphere. In the center
of a typhoon though the pressure is often much lower that it is on an
average day, thus letting the water to expand under the less force of the
air and in return cuasing a bubble or dome of water under the tropical
system. These factors combined often result in sudden and dangerous
increases in water levels near tropical coastlines where this phenomena
occurs.
The worst conditions of storm surge also often take place in areas with a
shallow slop or gradient leading up the coastlines. The gentle slope of the
US Gulf Coast is a prime example of this. This slope gives the water time to
build up with little friction to slow it down. Closer to home in Manila Bay
storm surge often occurs due to the shallow slope of the bay leading up the
coastal metro areas.
On the other hand storm surge is not so bad along coastal areas of Taiwan as
the steep continental slope migrates the devasting surges seen in other
places of the world.
Wherever you are though if a typhoon or equivalent system heads your way do
stay away from low lying coastal areas. Water levels could also rise quickly
in the matter of moments.  Thus becoming not only dangerous, but very
deadly.